August 19: South Africa is all set to sign an important agreement with its two neighbours – Zimbabwe and Mozambique. If all goes well, this agreement will help create the largest animal reserve or wildlife park in the world. The fences separating the national parks in the border region of each country will be removed and tourists and animals alike will be free to cross over.
Millions of antelopes, almost 20,000 elephants and many, many animals on the endangered list can be found in this region. Environmentalists say that the animals will increase in number once the fences, preventing free movement, are removed.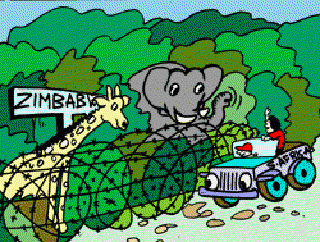 Kruger National Park is the most famous wildlife reserve in South Africa. Located on the border of South Africa and Mozambique, it shelters nearly every species of wildlife that is original to Africa – including lions, gnus, elands, antelopes, zebras, hippopotami and giraffes.
Kruger occupies an area of about 19,490 sq km, an area as large as Massachusetts or half the size of Haryana in India and has an estimated, 9,000 elephant inhabitants. Officials are excited about this plan, for the increase in land will give the mammals more space to lumber around.
Also, Kruger Park is trying to increase the population of a few species of antelopes, which are native to Mozambique. Antelopes closely resemble the more familiar deer and consist of about 150 species, most of which are found in Africa. With the removal of the fences, authorities are hoping the antelopes will move to the area in Mozambique and perhaps find the conditions there more suitable for breeding.
More than a million tourists visit Kruger National Park each year. Neither Mozambique's National Park, nor Zimbabwe's Gonarezhou Park, can accommodate as many animals as Kruger – so they are unable to attract as many tourists. They see in this new plan a chance to attract as many tourists as South Africa. This, in turn, will be good for their sagging economies.
This is the reason why Mozambique and Zimbabwe are keen to offer attractions other than the standard safari or expeditions to observe wild animals. These include activities that are normally not permitted in wildlife parks, such as organising tribal dances, allowing tourists to stay in tents and go off on jeep rides off the main track, into the forest.
Although the three countries are expected to sign the agreement next month, it might be years before the fences are removed and animals (and tourists) are allowed to cross freely from one country to another. There are many problems in that area. Fighting between countries and within countries is the biggest problem of the continent, for it has created hundreds of thousands of displaced people or refugees who have lost their homes.
In the course of fighting, what each side has done is to plant landmines or explosives underground, which blow up if a person or animal unknowingly steps on the small wire that sticks out. The Mozambique border area is highly unsafe as there are a large number of hidden land mines – a result of years of internal war.
In addition, poachers caught red-handed, in Mozambique, rarely get punished and often get away scot-free. Animal poaching is illegal and both South Africa and Zimbabwe have strict regulations. So it is not surprising that one condition to the formation of the park is that Mozambique should draft a new set of laws that will effectively deal with the menace. South African officials have declared that they will sign the agreement only if Mozambique agrees to tackle these problems with determination.
National Parks spread across national boundaries are not new in Africa – the continent's first such trans-national park is the Kgalagadi Park, between Botswana and South Africa, which opened in May, this year.
635 words | 6 minutes
Readability: Grade 11 (16-17 year old children)
Based on Flesch–Kincaid readability scores
Filed under: world news
Tags: #wildlife, #africa, #zimbabwe, #national park, #south africa
You may also be interested in these:
Why is a Hippopotamus called a River Horse?
The Frog King
Squirrelling it Away
Wheatears living in Greenland are larger than those found further south. Be...
Earth Heroes