September 6: Three schools in Hyderabad are changing people's views of government schools – they showed a 90 per cent pass percentage in this year's Senior Secondary Certificate (SSC) examination.
At the same time 12 government schools in Hyderabad have set another record of sorts. All students of the schools appearing for the SSC exam flunked the exams.
The SSC exam is the most important exam of a school student's life. It marks the end of a student's school life and the beginning of college life – which in many cases decides the student's future course in life.
When pressed for a reason, the prinicipals of the schools blamed the teachers. Many teachers' posts have been lying vacant for years, as a result of which their schools are almost always understaffed.
Teachers, meanwhile, don't want to teach in government schools. Not only are they paid lower than their counterparts in private schools but as government school teachers, they don't command much respect either.
Moreover, they complain that they are often asked to perform other types of work during school hours. This could range from Census duty (doing a head count of the population and details of their lives), election work or collection of household information or data for government programmes. Being government staff they can't refuse the work. So how can they possibly concentrate on teaching?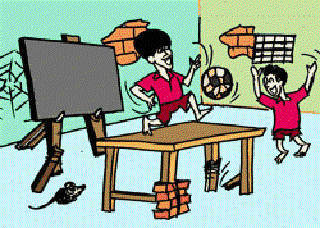 Rasheed Khan, Principal of the Government School in Falaknuma, draws attention to yet another factor for the teachers' inability to concentrate – the attitude of the students. Most of the youngsters are not interested in being taught in Indian languages, which are the standard languages used to conduct classes in government schools. They all want to master English.
"Parents prefer to send their children to English medium schools, as a result of which there are no takers for Urdu and Telugu medium schools these days. The number and quality of students being admitted in these schools is also poor," he said to the 'Deccan Chronicle', which carried a report on this worrying trend.
Rasheed Khan should know. Only five students from his school appeared for the SSC examination. All five failed. So saddened was Khan that he even requested the SSC authorities to close the school down. There's been no response as yet.
The background of the school children is another pointer to why they do not perform well. Most of them are drawn from low-income families. Studies are often the last thing on their mind. They are keener to earn money.
As a result they do not attend school regularly. The quality of education in these schools is also very poor with teachers promoting students to higher classes not because of their good performance but on the basis of their attendance.
"It is only during the SSC exams that the students realise the importance of studies, but by then it is too late," says a teacher.
But one can't really blame the students for not wanting to attend schools. Take the Government High School in Yakutpara. The school building is in ruins – it has exactly 10 rooms for 10 classes. Each room accommodates around 80 students.
All the rooms have leaky roofs and the floors are full of rat holes. The rooms are dingy and congested. They have no electricity or water supply either. The toilet stinks to high heavens. Not surprisingly, it has a dismal attendance rate. Would you like to study in it?
But not all is lost. Hopefully, students, teachers and especially the government will learn more from the young achievers in government schools.
605 words | 6 minutes
Readability: Grade 7 (12-13 year old children)
Based on Flesch–Kincaid readability scores
Filed under: world news
Tags: #hyderabad, #student, #government schools
You may also be interested in these:
Protest Without Clothes
The Unknown Soldier
They Make you Swallow a Fish for a Herbal Cure