April 12: How many of us would have the courage to fight a wild cat like a panther, even if it were to save our own lives? Imagine how scary it is even to face a panther? But one brave dog called Pinto attacked a panther in a forest, and saved the lives of his master and his son.
This incident occurred recently in the Challehonda forest in Yellapur taluk (or collection of districts) in Sirsi on the Karnataka-Andhra Pradesh border, reports the Deccan Herald. The irony of the situation is that Pinto saved his master Ganapati Nayak from the panther only to see him arrested by the forest department officials.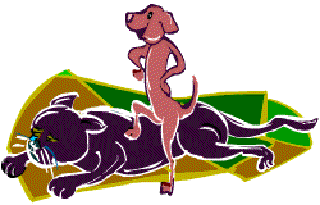 Nayak and his son Madhukeshwara, accompanied by Pinto, had gone into the forest to collect dry leaves when they were attacked by the panther. Nayak was injured in the attack and is still receiving treatment at the local hospital. He said that when they were attacked, Pinto jumped on the panther and bit it several times.
Nayak brought the injured panther to his house and informed the forest department officials about what happened. Unfortunately though, the panther died of his injuries in front of his house.
Like other members of the wild cat family, the panther too is an endangered species. Killing a wild cat like a tiger, a panther or a leopard is banned by the law. These cats are hunted for their beautiful skin which is used to make coats, shoes and handbags sold in western countries. Their bones, teeth and claws are used in countries like China and Japan in medicines that are supposed to cure diseases.
In the 16 century, Mughal Emperor Akbar captured 9,000 cheetahs during his lifetime. Of these, he kept 1,000 in his menagerie or place where wild animals are kept and trained, according to the Academy For Mountain Environics. The academy is a non-government organisation that is involved in finding eco-friendly ways of providing local level solutions to water and energy problems in the hilly regions of India.
The cruelty of people towards these animals, is also responsible for the endangering of the big cats. The report further reveals that in the 1920s, when cheetahs in India had almost all been wiped out owing to their indiscriminate hunting, many cheetahs were imported from Africa. No, the idea was not, as one would have hoped, to make up for having lost so many. Only so that the African cheetah too could be hunted and killed!
Thanks to these practices, all the cheetahs are now dead. The cheetah is today an extinct species.
Anyone found killing other wild cats or even possessing any of their body parts, is arrested these days. And that is why the forest department officials arrested Nayak. The officials said that Nayak should not have brought the panther from the forest.
What would you have done if you had been in Nayak's place – left the panther to die or brought it back hoping it could be cured?
506 words | 5 minutes
Readability: Grade 8 (13-14 year old children)
Based on Flesch–Kincaid readability scores
Filed under: world news
Tags: #india, #cheetahs
You may also be interested in these:
My Country is a Land of Plains!
Seeing the City
Building a Giant Lie
What is Water Harvesting?
Welcome Rains?