When you live in one place for as long as I have, you get to know everyone in the locality. I have lived in one house for 25 years now. When we moved to this house, the first person I met was Tara. Her parents lived in the next block. I think she was about eight when I first met her. Tara had wavy black hair, big mischievous eyes and a ready smile on her face all the time.
She was very fond of trees and spent all her spare time collecting leaves and pasting them on a scrapbook. She remembered exactly where she had picked up a particular leaf and on which day, whether it was a sunny, windy or a rainy day. Because I was interested in seeing what she had collected, I was her favourite didi, or elder sister.
Then Tara went to a boarding school outside Delhi. She would come home for vacations. We went for long walks in the forest land near our locality. As usual she would collect leaves, point out trees to me. Tara introduced me to the amaltas tree, with its vivid yellow blooms. She pointed out the hardy and thorny keekar tree which can survive in the toughest of conditions, the graceful tamarind tree.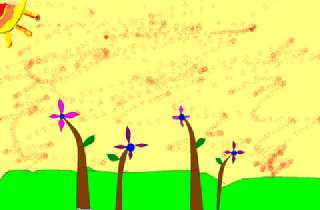 But I remember Tara most for the neem tree that grows outside my balcony. When the workers of the horticulture department had come to plant trees in our barren neighbourhood, Tara had insisted that they plant a neem tree right outside our house. A slender shoot then, the neem tree talks to the sky now, it is so majestic and tall. Sometimes I imagine the neem talking to the sparrows and mainas that sit on its branches. Under its deep shade, dogs curl up lazily in the afternoons when they get tired of chasing the insects sitting on their tails!
You must be wondering why I am talking about Tara. You see something fantastic happened last week. I was standing in the balcony looking at the budding blossoms of the neem tree. As usual I remembered Tara whom I had not seen for many, many years. She had settled down in the United States. I was so lost in my thoughts that I did not hear the doorbell ring at first. Then it rang again and again. Something stirred in my memory. Two short rings, one long ring and two short rings again – that was how Tara used to ring the bell. I ran to the door.
I opened the door and found Tara standing there! The same black wavy hair, the same black mischievous eyes, and the same dimpled smile. Clutching two scrap books in her arms – one old, frayed one, the other brand new. My head swam. This was Tara, but hang on, it couldn't be Tara. My Tara must be a grown up woman now. This Tara was about the same age as when I had met her for the first time!
"Hello didi, I am Chanda, Tara's daughter. This is my first visit to India. I want to go to the forest with you to collect leaves for my scrap book," the girl said with a laugh. Tara's daughter Chanda! What a wonderful surprise. And, she even called me 'didi' just like Tara did. Then Chanda called out to someone hiding behind, "Come out now. We have managed to surprise didi". In came Tara. The three of us went for a walk in the forest that afternoon.
When I came to know that it was Chanda's birthday a week later I told Tara that I wanted to have a big birthday party for her at my place. Both of them were thrilled. I had a serious meeting with the children of my block. Between mouthfuls of rainbow sandwiches and ladoos, Rohan, Nitya, Hema, Ankit, Dhruv and Divya discussed what was to be done for the party. Ten-year-old Rohan said, "I will help didi select the return gifts for the kids who come for the party." Nitya, who had turned nine two weeks ago and thought she was very grown up now, said, "I will plan party games for the kids, especially the little ones." Her six-year-old brother Ankit piped up, "I will help Nitya didi in thinking up kids birthday games." He looked very important as he said this and the others burst out laughing. The 11-year-old twins Dhruv and Divya turned to Nitya and said, "We have some great children's board games that our aunt got for us from England. We can bring them here to get the kids excited." Hema offered to put up streamers and balloons in the house. We decided to keep our plans secret so that Chanda would get a big surprise.
All too soon the big day dawned upon us. It was a school holiday so we had planned the party in the afternoon. Chanda came running to the house in the morning so I could wish her. I hugged her and gave her a big leaf for her scrapbook. The leaf looked like a piece of the setting sun, with its shades of orange, deep red, pink and yellow. Grinning happily from ear to ear Chanda went back home to show the leaf to her mother. Four hours later the house had filled up with 20 children of all ages, from three to 13. Everyone was determined to make it a happy birthday for Chanda.
Around lunch time Tara brought Chanda to our house. Her excuse was that she wanted to borrow a book from me. The house was ghostly quiet as they entered the living room. It was very dark. The curtains had been pulled across the two wide windows. The children were hidden behind the sofas and the diwan. As I switched on the light the children jumped up and started singing the special birthday song they had prepared for Chanda. The room liked a fairy house, with twinkling lights, bright streamers and balloons that looked like the moon in so many different colours. Chanda's eyes became as round as the balloons and for a minute she could not speak. Then a rainbow smile crossed her face and remained there for the rest of the afternoon.
The planners had done their job well. Hema had made cone caps for every child with shimmering paper that had pictures of clowns on it. Rohan had chosen the return gifts for kids with great care. Nitya was truly an expert at party games for kids. Pass the parcel, dumb charades, memory games – they played them all. Nitya had even made a glove puppet from an old sock. She tied a piece of cloth across the legs of the dining table to make a curtain. Sitting behind the curtain she wore the sock puppet on her right hand and introduced everyone to Mika the mongoose. The twins Dhruv and Divya had brought four children's board games, which kept everyone happy. There was a monopoly-like game called Life, and then old favourites Ludo and Snakes and Ladderrs, Scrabble and Pictionary.
Then it was time to cut the cake. I had ordered a chocolate cake in the shape of a leaf. Chanda was peechless with joy. She ran to me and gave me a big, big hug. "Didi, this is the best birthday party I have ever had," she said. All of us shouted, "This is the best party we have ever had!"
Outside, the neem tree swayed gently in the wind. Golu, the stray pup, looked up, his ears cocked. Clearly, something special was happening at the house!
1283 words | 13 minutes
Readability: Grade 4 (9-10 year old children)
Based on Flesch–Kincaid readability scores
Filed under: features
Tags: #trees, #birthday, #smile
You may also be interested in these:
Why does the Sun follow You?
The Fossil Tree
Microbes begin Deforestation
Abdul Kareem's Forest
Seeing the City