Ever since Colombus set sail to see if the world was flat or round, intrepid explorers have vied with each other to go around the earth. The world has been circumnavigated by sea by Marco Polo and people have walked across continents from end to end. But until 1924 no one had tried to circumnavigate the world by air except over a continent by a balloon in a Jules Verne novel.
Eight Americans decided to circumnavigate the world by plane. So in 1924, they set out from Seattle Washington, USA, in four Douglas World Cruisers and 175 days later three of the aircraft and crew returned to set a new world record.
The Douglas World Cruiser biplane was a variant of the United States (US) Navy's DT-2 torpedo bomber that could be operated either with wheels or floats. After successful tests of the prototype or the original four aircraft were ordered. Each plane was named after a US city: 'Seattle', 'Chicago', 'Boston', and 'New Orleans'.
Extensive planning went into the preparation of the trip. The Royal Air Force of Britain and the US Navy dispatched 30 spare engines all over the world prior to the flight; 28 nations promised to supply fuel and oil along the flight path.
On April 6, 1924, the four biplanes left Seattle and headed west. The first snag occurred within six days of flying when the 'Seattle' crashed near Port Moller, in Alaska due to heavy blizzards and thunderstorms.
The remaining three planes continued on to Japan, Southeast Asia, India, the Middle East, Europe, England, and Ireland, completing nearly three-fourths of the planned trip.
On August 3, the 'Boston' was forced down in the North Atlantic. A prototype was dispatched to Nova Scotia, Canada, and the crew renamed the aircraft 'Boston II' and rejoined the adventure. On September 28, the three biplanes returned triumphantly to Seattle after 175 days covering 44,360 km, with stopovers in 61 cities in a total flying time of 371 hours, 11 minutes.
Since a circumnavigation had been done it became necessary to set a speed record in this category. In 1933, another American, Wiley Post, did a solo circumnavigation between July 15 to 22, in seven days, 18 hours and 49 minutes in his Lockheed Vega. He covered 25,110 km (15,596 miles).
In 1949, US Air force pilots went one better with a non-stop flight around the world in 94 hours 1 minute on a B-50 Superfortress called the Lucky Lady II though they were refuelled in the air.
Finally there was only one record left to be broken. To circumnavigate, nonstop, without refuelling. On December 14th, 1986, Richard Rutan and Jeana Yeager flew a canard wing plane the 'Voyager' and took off from Edwards Air force Base, California.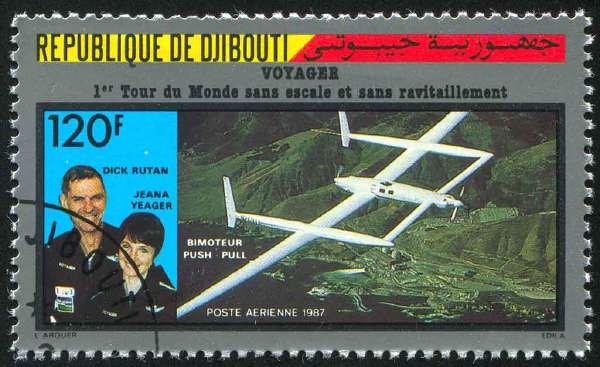 Carrying an unprecedented 3,150 of fuel it took the 'Voyager' nine days, three minutes and 44 seconds to become the first aircraft to circumnavigate the globe nonstop, without refuelling. The 'Voyager' landed again at the Edwards Air Force Base on December 23, 1987.
Did I say finally? Sorry, there was just one more record waiting to be broken. In 1964, Geraldine 'Jerri' Mock set a record by being the first women to fly solo around the world in her single-engine Cessna 180 aptly called the Spirit of Columbus.
574 words | 5 minutes
Readability: Grade 8 (13-14 year old children)
Based on Flesch–Kincaid readability scores
Filed under: 5ws and h
Tags: #flights, #seattle, #voyager, #boston
You may also be interested in these:
Boomerang: From Weapon to Fun
The Arrow and the Song
Why do Aircrafts Have a Black Box?
Why is it Harder to Walk Uphill?
The Dark Kingdom of Uranus