August 5: Recently, a group of homeless people living in the streets of Manila came to know the meaning of a mountain of garbage. One such mountain loomed behind their makeshift shelter.
The pile of garbage grew and grew. Like Jack's beanstalk. And, then, one day, it rained. The rains loosened the pile and it collapsed. On the houses of the squatters. Crushing them and the people in them, in the process.
The result: At least 218 people dead.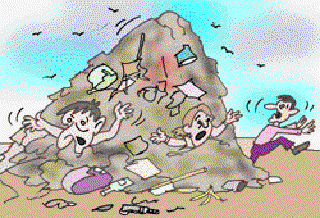 The incident occurred on July 10 in Quezon City. The garbage lay piled in Payatas dump. Which is one of the poorest regions in Manila. Many of the residents had been relocated to Payatas by the Quezon city government.
Those who survived the collapse are being referred to as survivors of the mountain of garbage. They have filed a case against the government and private waste management agencies accusing them of an indifferent attitude for allowing the pile to grow so close to their shelter. The case is worth $22 million. Which means that the squatters will be awarded that amount if they win. Except that the money will not bring back the loved ones they've lost.
"I want justice for my relatives and other victims", said Mr Gino, one of the squatters who lost his entire family, said a report in The Hindu newspaper.
There is still no reliable information as to how many people lie buried under the pile of garbage. But, some say at least 100 more people are missing.
It is a fact that garbage levels have risen alarmingly all over the world. One day, we all might find ourselves being buried under all that junk we have been throwing away. Like the squatters of Payatas dump. For, unlike Jack's beanstalk, no happy world awaits us if we allow our garbage mountains to grow. Misery surely does, though.
320 words | 3 minutes
Readability: Grade 5 (10-11 year old children)
Based on Flesch–Kincaid readability scores
Filed under: world news
Tags: #mountains, #garbage
You may also be interested in these:
Mr Fly Rubs his Hands with Glee
The Flower Girls of the Mountains
The Tiger and the Dried Persimmons
Shebu and Moonmoon, the Long Haired Goat
Conquering without Seeing