October 6: The planet Mars, or the 'red-planet' as it's called, has fascinated people on earth for centuries. The fourth planet from the sun, Mars is the nearest planet to earth.
This stunning landmass of craters, an uneven surface and dark skies has been a highly favoured destination for space travelers in science fiction, the body of literature that deals with stories of exploration into alien worlds.
The possibility of humans visiting Mars and even colonizing it some day, is the dream of astronomers and space scientists the world over. That is why when two American scientists announced evidence of ground water on Mars recently, the news created a great deal of excitement.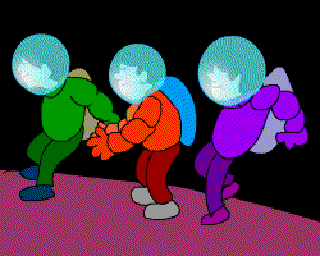 After all, water is one of the crucial requirements for the survival of living beings. And if Mars has water, isn't it possible that other conditions could be created for humans to live there, someday?
The United States is at the forefront of space missions to Mars. An ongoing mission organized by US-based Planetary Society, is the "Red Rover Goes to Mars" training mission.
Three Indian children have been selected for its prestigious Mission to Mars project.
The project will be undertaken at Malin Space Science Systems in San Diego in California, United States. The children will be part of a student team working with data from National Aeronautics Space Administration (NASA)'s Mars Global Surveyor
(MGS) Spacecraft, that is currently in orbit around Mars. NASA is the leading American space research institute.
The space vehicle is expected to reach Mars in the year 2003. The children will programme a camera on the space vehicle that will take pictures of the Martian surface. They will also participate as "student navigators" to select a possible landing site on the planet.
The Indian members of this nine-member team are, Vikas Sarangadhara, a fifth-standard student of Bangalore's Bethany High School, Tanmay Sanjay Khirwadkar, an eighth-standard student of Nagpur's Somalvan High School, and Shaleen Harlalka, a tenth-standard student of Udaipur's St. Paul's Senior Secondary School.
Vikas, Tanmay and Shaleen are among nine children selected worldwide for the mission. The other children are from Brazil, US, Poland, and Hungary. In all, 10,000 students from 44 countries participated in an essay contest on "Red Rover Goes to Mars". Their names were among the 80 candidates short listed. They were finally selected after being interviewed on phone.
The Indian Space Research Organisation (ISRO), India's leading space institute, coordinated the Indian segment of the worldwide selection process.
But why does NASA want children to run the project? It is because children are good innovators. Since they have fewer preconceived notions about things than adults, they often come up with original and refreshing insights into problems.
"Do you know when ink pens could not be used in zero gravity, it was a kid who suggested the use of pencils in space," pointed out Shaleen, talking to The Times of India. "The big guys will be using us to get novel ideas. It is a lifetime experience for me," he adds. For his two friends too, who will join him in the mission to get Planet Earth a little closer to its neighbour.
535 words | 5 minutes
Readability: Grade 8 (13-14 year old children)
Based on Flesch–Kincaid readability scores
Filed under: world news
Tags: #india, #indians, #space, #student, #planets, #institute
You may also be interested in these:
The Olympic Gold Rush
The Common Man's Film-maker
Report cards
Which is the World's Oldest Working Locomotive?
Army Comes to the Aid of Birds