July 31: What does a person achieve at 21? A college degree or, maybe, a job if she is lucky.
How about the title of Women's Grandmaster in chess?
S. Vijayalakshmi is 21. And she has just won this title to become the first woman Grandmaster of India. It is a record which will never be challenged as other women aspirants can only follow her achievement.
To win Vijaylakshmi, or Viji as she is known, had to defeat International Master P. Harikrishna. He was ranked higher than her at the Wipro International Grandmaster Chess Championship played in Hyderabad, a few days ago. Viji won in the ninth round.
She had been a Women's International Master for about three years.
Her next goal will be the title of International Master and then Grandmaster. In the world of chess, women need fewer points to become a Women's International Master and then Women's Grandmaster. The standard is higher for men who seek the title of International Master or Grandmaster.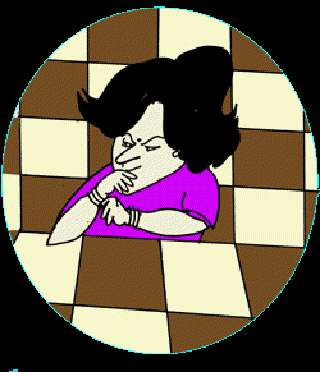 But then, taking up challenges comes naturally to Viji, a four-time national champion. Her father introduced her to the game, when she was only three. He is the one who should be congratulated for her win, she feels. "My father is the guiding force for me. I am always in touch with him from anywhere I'm playing", she mentioned in an interview with 'The Hindu' newspaper. As soon as she won, she ran to her room and called her parents up to tell them the good news.
It wasn't an easy win for Viji. She was seen taking brisk walks in the tournament hall a few times to reduce the tension. But the walks were obviously worth the effort.
Chess is a game that requires a calm and concentration. It is a 'mind game'. Viji understands that too well. Before playing the game, she read the Bhagwad Gita for a lesson on the virtues of patience and full commitment to the task at hand. And success was hers.
Vijaylakshmi's win was described as "a gift to Indian chess in the new millennium" and "one of the finest moments in the sporting history of the country," by the Secretary of the All India Chess Federation, Mr P. T. Ummer Koya.
The young Women's Grandmaster works as a Senior executive with the Indian Airlines. Clearly, she believes in achieving everything early.
400 words | 4 minutes
Readability: Grade 6 (11-12 year old children)
Based on Flesch–Kincaid readability scores
Filed under: world news
Tags: #india, #chess, #grandmotherster
You may also be interested in these:
Viswanathan Anand – The Lightning Kid
How does the Army Post Office System Work?
Holi – The Colours of Spring
Srinivasa Aiyangar Ramanujan
How Did Advertising Start in India?