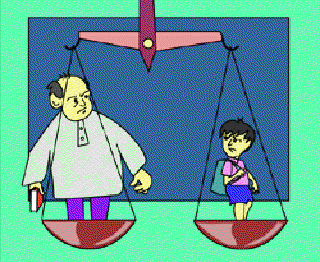 September 5: An average teacher teaches, a good teacher explains, a superior teacher illustrates, and a great teacher? A great teacher both learns and inspires students to ask questions fearlessly, for asking the right question is like taking the right turn amidst a maze of lanes and bylanes.
But these are different times. While school students say that teachers are no longer interested in teaching, teachers turn around and say that it is not their fault – nobody is interested in learning and that society treats them like dirt. So, who is right?
Newspaper reports, too, are not very encouraging. And so, two main stories in today's ' Times of India' newspaper, wonders whether teachers too should not be evaluated by students. This means that they would also receive report cards ranking them. The newspaper report asks if this is the only way to make teachers responsible.
So do we really have much to cheer about on Teachers' Day – a day that is also meant to honour the memory of a great Indian teacher, Dr. Sarvepalli Radhakrishnan, noted philosopher and India's first president, who was born on this day.
We do have something to cheer about. For, there are thousands of teachers who live to communicate with their students every day of their lives. They realise that in the circle of life, they provide that vital link between young minds and the outside world.
They also accept the fact that the manner in which a young student asks a question often leads them to see a new and altogether exciting side to something familiar.
What did my teachers, the teachers I grew to love and respect, give to me? I think they gifted me a very important thing – a sense of perspective, or an ability to be able to see the bigger picture.
It is rather like being able to see beyond the elephant's tail to its trunk and ears and to see them as part of one thing. My teachers became a bridge for me to get out of my safe world at home, into the big world when I joined school.
I can only share my experience. I always knew I was the centre of my parents' world. Then came the day when I left the cocoon of security and love that they provided, to take my first hesitant steps to the world outside – to the sometimes scary, sometimes thrilling world of school.
It was in school that my real initiation into the real world began. There were always some teachers who guided me in this journey, pointed out the treasures along the way, and at times provided a helping hand to soothe my hurt.
It is from them that I learnt one of the most valuable lessons in my life – that my true place in the world was one small but crucial piece in a perfect circle. They pointed this out with sensitivity and tact. I still remember their words that I would find my place in the scheme of things in due time.
And that's why teachers are so important to us. Their importance goes beyond textbooks and class tests and marks. And that is what we must keep in mind every Teachers' Day.
This day then is for those teachers who, despite low wages, bad working conditions, diminishing respect and indifferent students, continue to live the only way they know – by being candles in the wind for their students.
585 words | 5 minutes
Readability: Grade 7 (12-13 year old children)
Based on Flesch–Kincaid readability scores
Filed under: world news
Tags: #india, #circle
You may also be interested in these:
The Day it Rained Fish
Aung San Suu Kyi
Mohandas Karamchand (Mahatma) Gandhi
A World for Children
King of Fruits – History of Mango!