August 5: Last week, we had written about social worker Aruna Roy who has been tirelessly working to promote the rights of villagers in Rajasthan. And for her work, she has been awarded the Magsaysay Award for the year 2000. Keeping her company is 53-year-old Arputham Jockin.
Arputham has only one objective in his life — to ensure the rights of slum dwellers in Mumbai. For this purpose, he has also founded the National Slum Dwellers' Federation (NSDF), says a report in 'The Hindu'.
Like Aruna, Arputham, too, does not believe in keeping any distance from the people he works for. He lives in the midst of the people he cares for — in Dharavi, Asia's largest slum.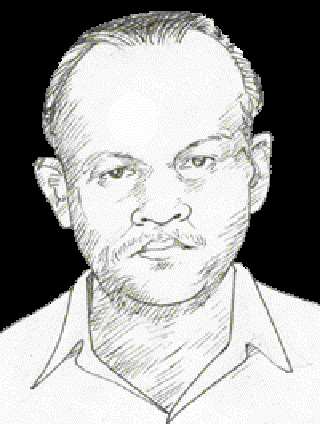 Slums have become a part of the landscape of every Indian city. They are nothing more than clusters of houses of the poor who come to the city to work but have no roofs over their head. But they have to stay somewhere. So they take over an unused piece of public land and build their own shelters — sometimes temporary, sometimes 'pucca' structures.
Arputham grew up in the Kolar gold fields of Karnataka where his father worked. In 1964, he came to Mumbai looking for a job. Since he couldn't afford the rents of houses in Mumbai, he stayed in a slum, Mankhurd's Janata Colony.
It was here that he realised how difficult it is for the average slum dweller to survive. The year was 1976. The government that was ruling the country had imposed a state of Emergency. Which was nothing but a form of harsh rule by the state.
One day, the state officials in charge of destroying illegal constructions came to Arputham's slums and broke down the homes of 12,000 families. These people were occupying land which the government had decided to gift to employees of an advanced science institute. They were forced to shift to a swampy piece of land nearby. Where they had to rebuild their houses and their lives all over again.
The government could do this because a slum dweller, even if he owned his house, has no property rights to speak of. He is seen as an illegal occupant whenever it suits the authorities and thrown out. Even though he may have been living in that house for years. Like Arputham and his friends.
The incident made Arputham realise how important it was to organise slum dwellers. He began by publicly protesting unjust government policies towards slum dwellers and other poor people living in the cities. Today, his protest has grown into a movement. The NSDF has as many as 2,30,000 slum households as members in Mumbai. And, another 6 lakh families in 34 other cities.
The NSDF is the voice of thousands of poor people living in slums and other makeshift homes in the city. People who thought they had no choice but to vacate the land they were occupying whenever the authorities asked them to. Arputham is teaching them to deal with the authorities now. And since they too are citizens, the authorities have no option but to listen to them. So, now they are telling the authorities how many they are, how much they have saved, and whether there are any alternative living arrangements that they could be shifted to. Arputham is, in short, asking them to stop being victims and start taking charge of their lives.
His efforts to empower his people brought Arputham to the notice of the people who decide about the Magsaysay awardees. So, on August 31, Arputham will receive the award from Joseph Estrada, the President of the Philippines, in Manila. And true to his generous self, Arputham has decided to give away the entire reward money to a partner organisation for women.
635 words | 6 minutes
Readability: Grade 8 (13-14 year old children)
Based on Flesch–Kincaid readability scores
Filed under: world news
Tags: #mumbai, #magsaysay
You may also be interested in these:
The Plastic Menace
The Green Magician
India's first Underwater World