March 19: Among the relief workers who rushed to Kutch, Gujarat, to help the quake-affected people, was 26-year-old Sudha Patel. Sudha, who is the sarpanch or village head of Changa village in the Anand district of Gujarat, began by collecting woollen clothes, foodgrains, blankets and donations of food packs and mineral water.
Then she began to send "family kits" consisting of tea, sugar and other necessary items, to the quake victims.
Sudha is visually impaired.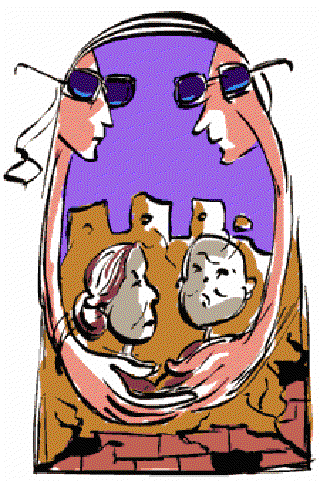 She is one among the many members of the Ahmedabad-based Blind People's Association who decided to join the post-quake relief work in Kutch.
Sudha visited Bhuj and other remote villages with members of other agencies involved in relief work. The idea was to conduct a morale-boosting workshop for earthquake survivors who had lost a limb owing to severe damage in the terrible earthquake.
Since most of the injuries sustained during the earthquake were the result of heavy material falling on people, there are many amputees in Gujarat today. The workshop was to teach them to learn to be self-reliant once more.
Sudha also worked as a volunteer at a hospital in Karamsad, near Ahmedabad which treated injured people arriving from Kutch. "For the first couple of days, I hung around and tried to be friends with them, and prove that I was capable of helping them."
By showing extraordinary grit and positive energy Sudha has provided a shining example to the people whose lives have changed beyond recognition in a matter of minutes. She has proved that an individual described as physically or visually disabled can live on her own terms and be a source of strength to the people around.
In her relief mission Sudha has been helped by companions at the Blind People's Association. Bhaskar Mehta, a professor of Sanskrit is one such individual. He visited Bhachau just a couple of days after the earthquake and managed a rescue operation involving about 100 aged people of an old age home for the visually-impaired.
The initiative to help quake victims first came from Tarak Luhar of the Adult Training Centre School for the Blind, in Ahmedabad. He was the first to rush to Bhuj and actively help in the relief work.
The efforts of Sudha, Bhaskar Mehta and Tarak Luhar show what sighted people are blind to: that being without sight is not the same as being without a vision.
402 words | 4 minutes
Readability: Grade 9 (14-15 year old children)
Based on Flesch–Kincaid readability scores
Filed under: world news
Tags: #earthquake, #gujarat, #kutch, #ahmedabad
You may also be interested in these:
The Quake that rocked Gujarat
Say Cheese!
Where are the Shaking Minarets?
Animal Sense
What is an Earthquake?