July 31: Think of a school or college where classes are not held everyday. Sounds like a dream school or college?
But, a dream college like this is also a place where students don't really learn much. The reason is very simple. Their teachers don't have the time to teach them.
The Delhi University is such a place. Where teachers make a habit of not attending classes. Naturally, their students also do the same.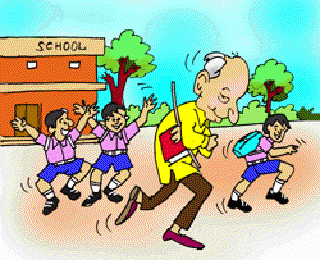 But, it's not only the teachers and their students who shirk work. They have company in college principals. And administrators too. That's what a report in 'The Times of India' says.
This has got the Delhi University Teacher's Association (DUTA) very worried. It is now thinking of ways to solve the problem of attendance. And, it has formed a committee to discuss the problem.
The committee comprises 23 people, all members of DUTA. They spent a record 6 hours to discuss ways to end the menace. One suggestion they came up with was that all university and college departments should have attendance registers for teachers . And regular meetings be held to see if the teachers are indeed attending classes.
They were stricter with principals. It was felt that principals should stay in office throughout working hours. And display their engagements in their offices, whenever they are going out.
But why don't these teachers attend classes?
It's because they can afford to stay away. Without getting caught.
The Delhi University has no effective system to ensure that teachers take classes regularly. So the teachers have a great time. Doing a million other things when they should be teaching. Like writing books, attending international seminars, giving tuitions and going on vacations.
Not all the students mind. Obviosuly. Because they are never taken to task for it. Since their teachers also do the same. "At present, a minimum attendance of 67 per cent is a must for a student to appear in the exams. But many college principals allow students with poor attendance to take the exams." says a teacher.
The committee has decided to hold another meeting in 10 to 15 days to discuss some more. And come up with a solution. Will they succeed in their mission? Let's hope so.
380 words | 3 minutes
Readability: Grade 5 (10-11 year old children)
Based on Flesch–Kincaid readability scores
Filed under: world news
Tags: #india, #university
You may also be interested in these:
Aung San Suu Kyi
Teachers who Ticked Correct Answers Wrong
Indira Gandhi
Dr Sarvepalli Radhakrishnan
Gems of Indian Literature