October 28: The internet is quietly transforming the lives of over 20,000 people in six villages around the South Indian state of Pondicherry. Whether it's sugarcane farmers in Kizhur village using the net to consult an entomologist ( one who fights bugs ) online, to save their crops from being ravaged by bugs, or a farm-worker making incense sticks under a government-sponsored scheme about which she found out on the net, the internet has become crucial to the lives of all the villagers.
It's not as if these villagers are affluent or enjoy a high degree of literacy. Most of them are poor, don't own a telephone, and haven't studied beyond class ten. But none of that has dimmed their boundless enthusiasm for the internet.
Internet was brought to these villages as part of a project launched last June by Chennai-based MS Swaminathan Research Foundation ( MSSRF ), with international collaboration.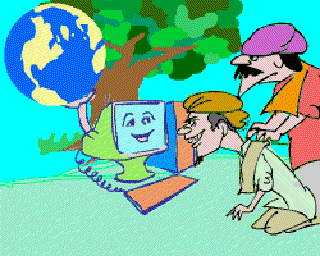 The central village is that of Vilianur, which has net-access, reports The Hindustan Times; other villages are connected to it by means of radio links. The villagers have offline wireless access to e-mail and internet, which runs on solar power.
Each satellite village has an information shop that is open from 9 am to 6 pm everyday. The computers are kept in specially-designed boxes to keep away rats. Boards on the shops display bulletins received on e-mail from the centre at Vilianur. Verbal transmission of critical information through loudspeakers, is not unheard of, either.
The villagers flock to them for locally relevant information, such as the wholesale and market prices of vegetables, current rates of fertilizers and grains, and give weather-forecasts.
The importance of the centres is not confined to grown-ups. Students flock the centres for important announcements like exam schedule, school-timings and exam results. All the schools in the region are net-savvy and teachers even conduct science classes using CDs.
The villagers have been taught the use of personal computers, and can operate Windows and Word using Tamil fonts. They also know the use of e-mail. It took them only two weeks to grasp the fundamentals of operating a computer, after which they were on their own.
Some enterprising villagers have actually created a number of locally-relevant databases in Tamil. Others are opting for careers in the net by training in web-designing. Today, none of the villagers can think of a life without the net.
404 words | 4 minutes
Readability: Grade 9 (14-15 year old children)
Based on Flesch–Kincaid readability scores
Filed under: world news
Tags: #internet, #tamil, #computers, #flock
You may also be interested in these:
Internet in the Jungle
Computer Whiz Grans
Old PCs Save Precious Lives
10 Tips for Parents of Children with Internet access
Children e-Lead the Way