Shooting 'Shores of Silence', was probably more exciting than shooting a high-voltage action thriller for Mike Pandey and his two crewmembers. The small fishing boat that they rode the high seas in, was tossed by huge waves like a cork, threatening their life and equipment several times. But the three hung on, determined to shoot the sequence that was to be the highlight of the film – the capturing and slaughtering of giant whale sharks.
"We had no state-of-the art equipment. Not even high-resolution lenses that take long-distance shots. So, our only alternative was to move dangerously close to the creatures (about 20-30 feet away) and take some good quality shots", says Mike, explaining the reason behind their adventurous move.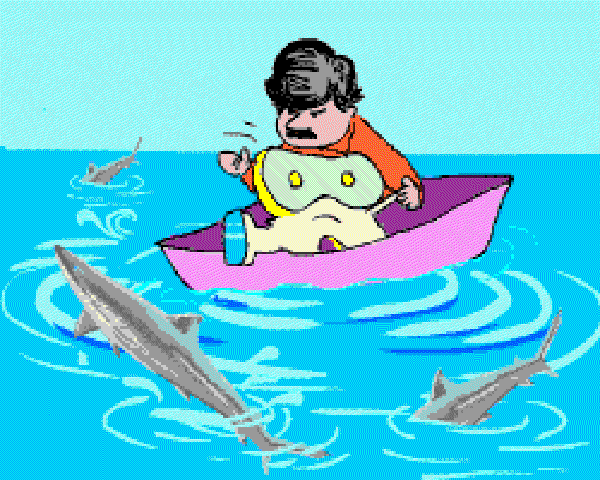 But the efforts paid off. Mike's film, the first Indian film to document the mindless massacre of these gentle creatures of the sea, won the world's most prestigious award for 'green' films, at Bristol. Mike won the Wildscreen Panda Award, also known as the Green Oscars, reports 'The Hindustan Times'.
Mike had won the award once earlier. He won it for a 1994 film titled 'The Last Migration – Wild Elephant Capture at Sarjuga'. It was the first Asian film to win a Wildscreen Panda.
'Shores of Silence' is a 25-minute docudrama that took three agonizing years to complete. It was made on a shoestring budget of US$ 50,000 as compared to half a million to a million dollars that a foreign crew would spend. It was pitted against 478 mega-budget entries that had been entered by the likes of the British Broadcasting Corporation, National Geographic and Discovery.
But the jury, instead of getting carried away by the superior technology of the other films, decided to award Mark's film for the sensitive way in which it tackles the tragedy of the whale sharks, which are being hunted down for their blubber, oil and skin.
Mark's interest in wildlife began as a child in Nairobi, Kenya. This African country is known for its scenic beauty and abundant wildlife. The house he lived in, was located in the backyard of Nairobi's famous National Park. He remembers going out on long walks with his father and brother, and being awed by the magnificence of the country and its fresh natural beauty.
So when he received his first Kodak camera as a gift, Mike was as delighted as a little boy with his new toy. He could now capture the fascinating surroundings around him on film, with his camera.
His childhood love proved enduring for this unusual man who, took his first name (Mike) from a character he played as a schoolboy, a detective called Michael Hammer.
Mike went on to learn film direction and cinematography, at the London School of Films. He came back to India in 1970, where he founded Riverbank Studios. His other films include 'Honey Hunters of the Blue Mountains' and 'The Living Fossil: Indian Horseshoe Crab'– poetic names thought up by someone who could see the inner beauty of nature. "I sense a harmony, a symmetry in nature, even in a blade of grass. That's why I feel outraged when I see man entering into a conflict with it," he says.
Conviction and not profit lies at the root of Mike's work. He has already pledged forty per cent of the proceeds from the sale of his film, to 'Earth Matters Foundation', a non-profit organisation that deals with environmental issues. The Foundation's current campaign is to seek a ban on the slaughter of whale sharks. The foundation does provide alternatives to fishermen whose livelihood depends on the slaughter of these whale sharks and sale of products derived from it.
616 words | 6 minutes
Readability: Grade 9 (14-15 year old children)
Based on Flesch–Kincaid readability scores
Filed under: features
Tags: #indians, #sharks, #whales, #films
You may also be interested in these:
The Common Man's Film-maker
Talkie Star from the Silent Era
IMAX the High-Tech Theatre
What Kind of Creatures are Sharks?
Jacques-Yves Cousteau