Don't let this Easter pass by without enjoying an egg rolling competition. And for more fun, decorate the eggs.
The things you need:
Paints
Paint brushes
Wool
Coloured paper
Scissors
Glue
Step 1: Pierce the egg at one end and drain the egg white and the yolk. You will have a hollow egg shell to decorate.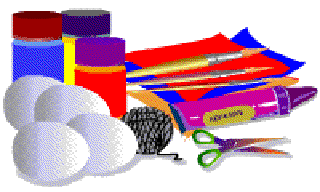 Step 2: Paint the egg in colourful patterns and gift it to your friends. You could hang the egg from shrubs and trees.
Another way to decorate the eggs is to make different faces on them.The features can be made out of coloured paper and wool can be used to do the hair. Here are some faces that we made.
Try out this craft and enjoy Easter!
131 words | 1 minutes
Readability:
Based on Flesch–Kincaid readability scores
Filed under: craft activities
Tags: #easter, #paint
You may also be interested in these:
Personalised T-Shirts
Paper Bag Tiger
Make a Balloon Mask
If I Could Fly
Peanut Puppets