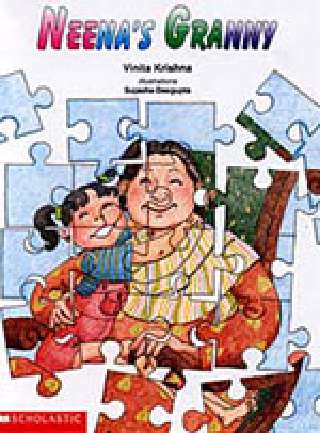 Neena's Granny
Written by Vinita Krishna
Illustrations by Sujasha Dasgupta
Published by Scholastic India Pvt. Ltd.
Some grannies are funny, some grannies are loving, but Neena's granny is her best friend. While the little girl thrives on Granny's lunchtime surprises and stories and snuggles up to her in the night, Granny looks forward to her darling's return from school and waits to hear her amusing tales.
Then one day a deathly illness threatens to steal Granny away. Granny returns from hospital but Neena is inconsolable. She is determined to speed up her recovery. The task seems impossible for a little girl to do, but Neena wins against all odds. She is, after all, Granny's girl, and she goes on to prove it. But how does she do that? Read the book and find out…
An excerpt from the story:
Neena's most favourite place in the house was Granny's room. When she started going to school, she even did her homework there. The game Neena loved playing best was picture puzzles. Granny would stick pictures on cardboard and keep a new puzzle ready for her everyday.
The author has been able to capture the warm and loving relationship between grandparents and their grandchildren. The story brings out the intimate side of this relationship, which will remind you of the love you share with your own grandparents. The simple language and illustrations add life to the characters in the story.
241 words | 2 minutes
Readability: Grade 6 (11-12 year old children)
Based on Flesch–Kincaid readability scores
Filed under: book reviews
Tags: #grandmother
You may also be interested in these:
The Family Album
Hamid Buys an Eid Present
Flying Granny, Courageous Climber